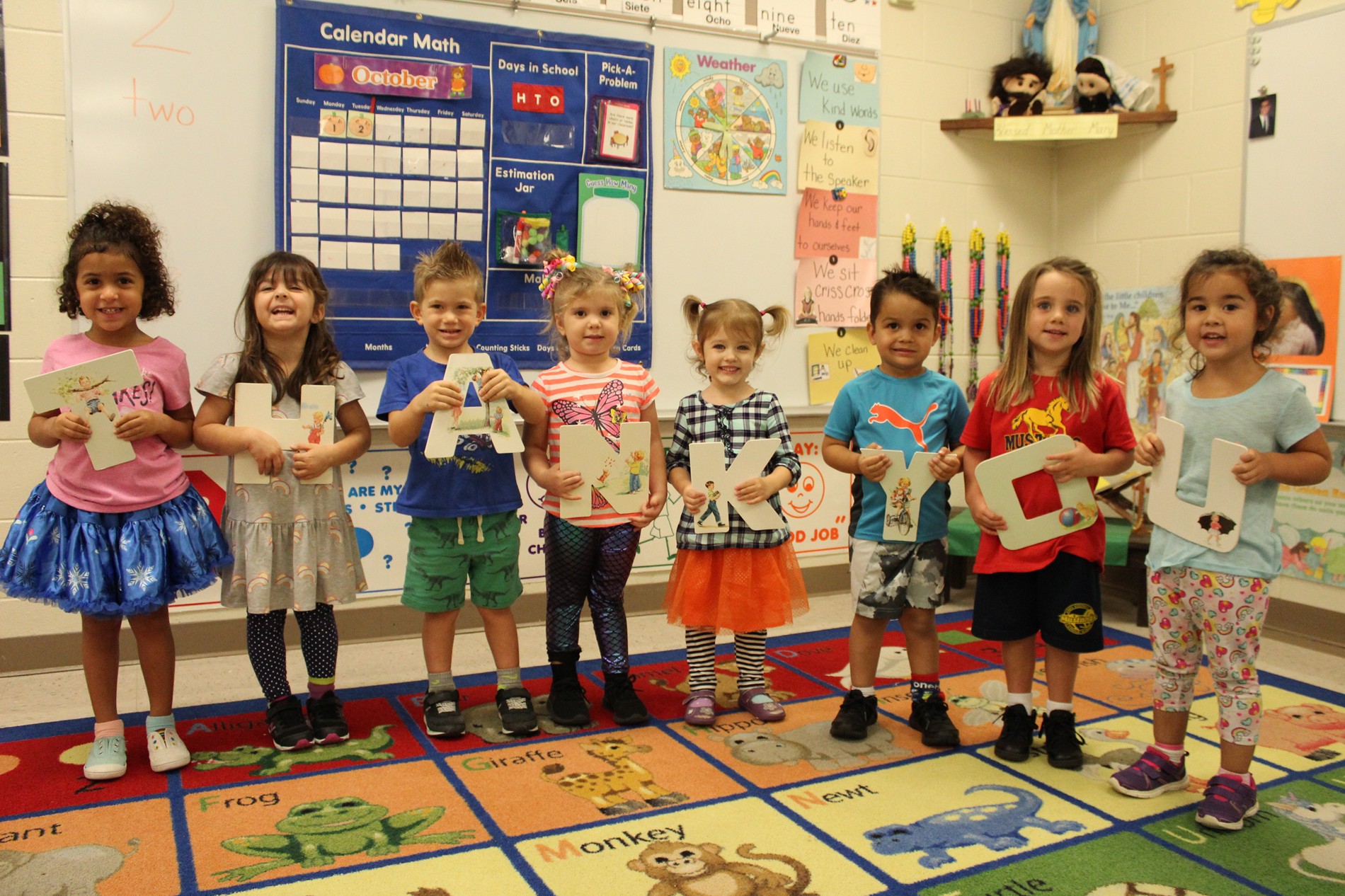 The 19th Annual Angels Among Us Gala
We've enjoyed sharing our 19th Annual Angels Among Us with you!
Please share your photos and experiences of the evening with us on
Facebook @SSCSFL #Angels2018 or email ngallagher@sscsfl.org

Archangel Sponsors
A & J Mobility Inc. - The Daoud Family
Allstate - John Clarkson
Ray and Toni-Ann Carapella
Expert Construction Managers, Inc.
Christie Granowicz
Thatcher Properties, Inc.
TLT Properties, LLC
Wawa
Cherubim Sponsors
Rivard Buick GMC
Guardian Sponsors
Integrity Science - John and Rachel Ross
Michael and Lisa Lopez
Matt and Erin O'Brien
The Bufano Family
The Womack Family
Heavenly Sponsors
Jeremy Dieringer and Yesenia Hernandez-Dieringer
Juaniece Howell
Bill and Cass Hughes
Vince and Allie Labrato
Mark and Tricia Majeski
Patrick and Virginia McRae
Cynthia Pritchett
Deacon Mike
and Mrs. Lisa Ryba
Thank you to our Sponsors for being ALL IN!
Your generous support is a testimony to the value of Catholic Education and to the Students of our Parish Community
A Dream is a Wish your heart makes... Thank you to the many friends, school parents and local businesses who granted Angels their wishes.
3 Daughters Brewing
Arthur Murray Studios
Ramon Barroso
Bloomingdale Florist
Busch Gardens Tampa Bay
Nancy Cardella
Campo YMCA
Catholic Moms Sharing
Chaberek Family Christmas Trees
Cherry's Bar and Grill (Brandon)
Chick-l-A (Brandon South)
Chick-l-A (Lake Brandon Village)
Courtney Vickers Photography
David Caruso Enterprises
Deborah Lea Photography
Eden Roc Miami Beach
Ellen Hazel
Florida Candy Factory, Inc.
Fred Astaire Dance Studio
Hammitt - Los Angeles
Jeanne Lewis
Jet's Pizza (Lithia)
Kelley Michelle Photography
Knights of Columbus #14084
Kona Ice of Valrico - Larry Eaton
Linksters Tap Room
Angel Hearts are still smiling from the generosity of friends and families
Aaron and Beth Niec
Northern Edge Lawn and Landscape
Paul Effman Music
Cynthia Pritchett
Dave Randazzo
Chrissy Riker
Risse Brothers
Ritz Carlton - Grande Lakes
Saddlebrook Golf Resort
Seal Swim School
Michelle and Todd Simms
St. Stephen Catholic School PTCO
St. Stephen Lunch Bunch
Tampa Catholic
The Alley at South Shore
The Alonso Family
The Brennick Family
The Legion of Mary
The Tampa Bay Lightning
Thorntons
Toppers Creamery - Greg Sausaman
Van Wezel Performing Arts
...and Heartfelt thanks to all the volunteers who have spent countless hours preparing for this event. We are truly grateful for the role you have played in creating this wonderful evening!

This annual event is the primary fundraising event at St. Stephen Catholic School, which offers an elegant evening among business leaders, community leaders, parishioners, and school families.
NEW This Year: 2018 Angel of the Year Award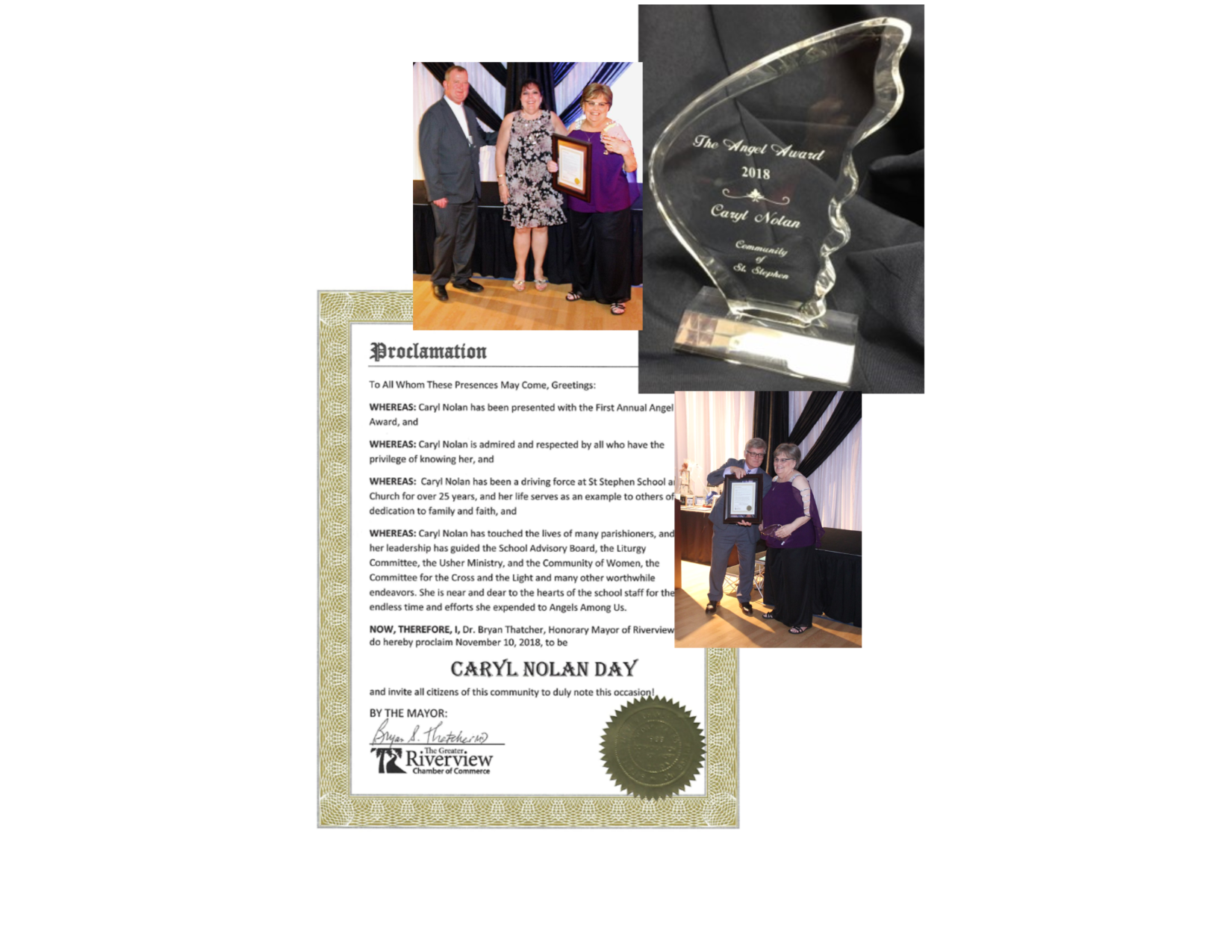 Congratulations to Caryl Nolan, our first Angel Award Recipient.
Help us honor a remarkable parishioner from St. Stephen Catholic Church or School for our first annual Angel of the Year Award. Please prayerfully consider nominating someone you know who selflessly give their time to elevate Christian values in our community. Nominations due Sept 14. The award will be presented at the Gala on November 10.